ALFA ROMEO TONALE HYBRID TECHNOLOGY
ALFA ROMEO TONALE HYBRID TECHNOLOGY
Posted on July 6, 2023
The exciting Alfa Romeo Tonale is the brand-new innovative hybrid-electric SUV designed to usher in a new standard of electric performance and luxury. As the first ever hybrid-electric Alfa Romeo, the Tonale introduces a brand-new Alfa Romeo powertrain that propels this luxury SUV to new capabilities and performance. Check out more details on this new Alfa Romeo performance technology at Maranello Alfa Romeo!
Tonale Hybrid Powertrain
The 2023 Alfa Romeo Tonale comes with a standard plug-in hybrid electric vehicle system, which incorporates a 15.5-kWh lithium-ion battery, 90 kW electric motor, and a turbocharged, 1.3-litre, four-cylinder engine that produces 272 horsepower. With an all-electric range of 48km, you'll have plenty of time and power needed before you need to charge. The Tonale's power is handled by a 6-speed automatic transmission and AWD.
Tonale Hybrid Drive Modes
The 2023 Tonale offers several different drive models so you can get optimal performance wherever you travel in any conditions. All three modes offer distinct driving dynamics, allowing the driver to easily tailor their 2023 Tonale experience as they see fit. The available modes include Dynamic, which maximizes performance, Natural, which balances performance and ride quality, and Advanced Efficiency, which enables 100% all-electric driving.
Alternative Powertrain
While the 2023 Tonale is known for its hybrid-electric powertrain, there also is a traditional combustion engine option for drivers not ready to embrace electric vehicles. The turbocharged 2.0L 4-cylinder engine comes with a 9-speed automatic transmission, outputting up to 256 horsepower and 295 pound-feet of torque. Equipped with engine stop-start technology, this powertrain meets the super-ultra-low emissions 30 (SULEV 30) standard, producing 90% fewer emissions than the average gasoline engine.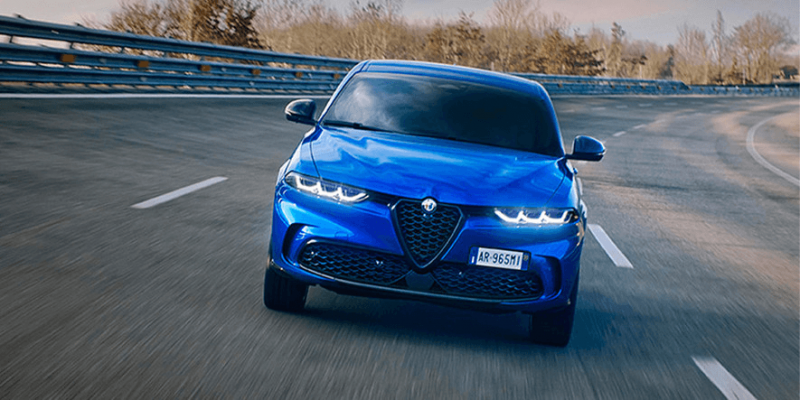 There's a lot to love and embrace about the brand-new Alfa Romeo Tonale. To explore more and learn more details about this impressive luxury electric SUV, visit our Woodbridge dealership location, serving Vaughan, and the surrounding Toronto area. Get in touch with us today, and we look forward to showcasing the best of Alfa Romeo.