TRACTION IN ACTION
Switch between fun-to-drive RWD and AWD handling in mere milliseconds with our standard Q4 All‑Wheel‑Drive System. In adverse weather or road conditions, the Q4 system automatically engages All-Wheel Drive by transferring up to 60% of the torque to the front axle — enhancing traction and control in our four‑door sports sedan.

NEW INVENTORY USED NVENTORY
DNA DRIVE MODE SELECTOR
Our DNA Drive Mode Selector allows drivers to choose from three unique driving modes. For enhanced steering feedback and a sharper throttle, choose Dynamic Mode. Natural Mode is most suitable for a daily commute, as it exhibits a standard engine response. Use Advanced Efficiency Mode for optimal fuel consumption.
BOLD AND BEAUTIFUL
Lush, sophisticated and Italian through and through, our sedan's luxury interior doesn't disappoint. Our 8.8-inch Multi-Touch Display offers a customizable layout that maximizes driver and passenger input — convenience and connectivity reign supreme in our tech-tuned cabin.
STREAMLINED AND STRIKING
The Alfa Romeo Giulia and its aerodynamic form are expressed through signature features forged from its sports car lineage. From its Sport Front Fascia to its Rear Sport Diffuser, the Giulia achieves maximum performance through design.
HEATED POWER LEATHER-TRIMMED SEATS
The available 12-way Sport Performance leather-trimmed front seats are easy to maneuver for additional lumbar support and maximum comfort based on the driver's personal preference.
POWER-TO-WEIGHT RATIO
For swift acceleration and expert road-holding on a variety of terrains, look to the 2023 Alfa Romeo Giulia for a Best-in-Class power-to-weight ratio.
8.8-INCH MULTI-TOUCH DISPLAY
Taking centre stage in the 2023 Giulia is the 8.8-inch Multi-Touch Display. Its tech-led interface creates an immersive environment for drivers and passengers alike. Drag, drop and launch familiar applications or widgets like Navigation, support and compatibility, all from the full-colour touchscreen.
HARMAN KARDON® SPEAKERS
Harman Kardon® has crafted a sound system that's second to none — 900-watts, 14-precision-tuned speakers and a 12-channel amplifier. Immerse yourself in acoustics so rich that you'll have difficulty listening to music from anywhere but your Giulia. Available on Veloce, Estrema and Quadrifoglio models.
AVAILABLE LANE KEEP ASSIST
Available Lane Keep Assist System helps prevent potential accidents by regularly monitoring vehicle position in relation to lane markings. ⁎ In addition to providing audible and visual alerts for drivers, the system can actively adjust and help correct vehicle placement if unintentional lane departure is detected.
AVAILABLE INTELLIGENT SPEED CONTROL
Available Intelligent Speed Control helps enable drivers to maintain a set speed with ease. ⁎ By using built-in cameras and scanners, the system observes the road ahead for traffic sign markers, then recommends to drivers the appropriate speed adjustment if necessary.
AVAILABLE HIGHWAY AND TRAFFIC JAM ASSIST
Achieve Level 2 autonomy by using available Highway and Traffic Jam Assist, included in the Active Assist Plus Package. ⁎ In both congested traffic conditions and highways, the assistive technology can help to adjust positioning, manage speed, and apply the brakes if needed — all to aid in accident prevention.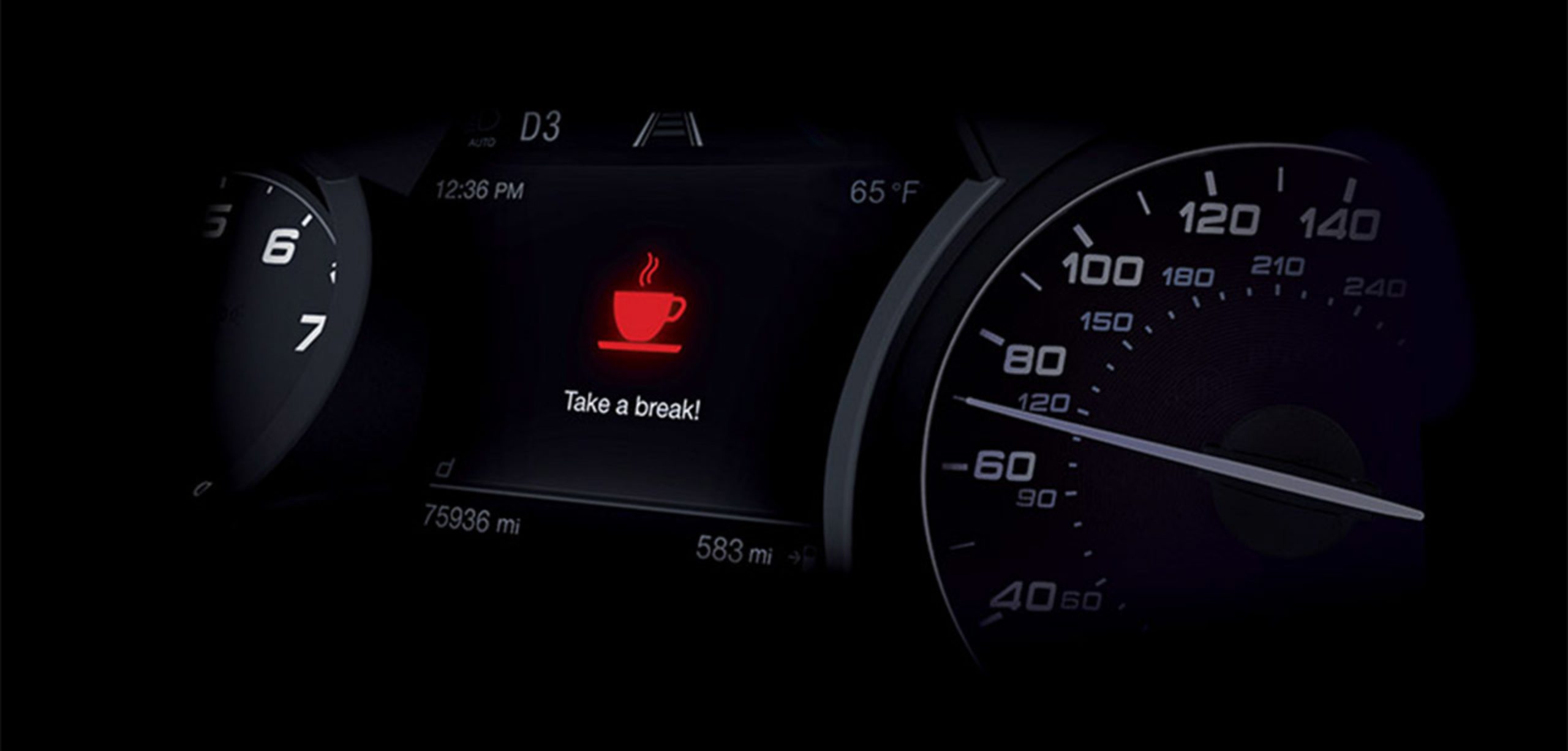 AVAILABLE DRIVER ATTENTION ALERT
The available Active Assist Plus Package includes Driver Attention Alert helps notify drivers when fatigued, distracted or extended driving is suspected. Audiovisual alerts can warn drivers when they have driven for a prolonged period of time or if steering behaviour indicates a lack of attentiveness and fatigue.
FORWARD COLLISION WARNING WITH FULL STOP
Advanced capability systems like Forward Collision Warning with Full Stop help mitigate potential hazards using proximity sensors to scan the road ahead. When the system detects a likely frontal collision, brakes are applied simultaneously as the driver is alerted with audiovisual warnings.
INTELLIGENT ADAPTIVE CRUISE CONTROL
Intelligent Adaptive Cruise Control helps enable drivers to manage speed and distance autonomously. Using forward-facing cameras, the system can maintain a target speed based on driver preference and adjust the positioning of the Giulia based on the vehicle ahead — even in congested stop-and-go situations. This assistive feature also provides a forward path to support lateral dynamics at a low speed.
BLIND SPOT MONITORING WITH REAR CROSS PATH DETECTION
Blind Spot Monitoring with Rear Cross Path Detection visually and audibly warns drivers when another vehicle is in or approaching their blind . Rear Cross Path Detection is activated when the Giulia is moving in reverse. The system helps alert drivers of oncoming traffic when backing out of parking spaces or during other reduced visibility situations.
FRONT AND REAR PARK ASSIST
Using ultrasonic sensors located on the vehicle's front and rear bumpers, Front and Rear Park Assist provides distance alerts when detectable objects are in front of or behind the vehicle — helping drivers park with confidence.
ACTIVE BLIND SPOT ASSIST
Included in the available Active Assist Plus Package, Active Blind Spot Assist uses proximity sensors to scan and help prevent collisions with vehicles in the driver's blind spot. Drivers are alerted when obstructions are in their blind spot with visual warnings first. If the driver then turns on their blinker to indicate a lane change, audible and tactile warnings are also engaged.
CURRENT OFFERS
2023 GIULIA TI AWD
LEASE FOR AS LOW AS 4.99% FOR 27 MONTHS ⁎
FINANCE FOR AS LOW AS 3.99% FOR 36 MONTHS ⁎ PLUS GET $1,000 IN LOYALTY/CONQUEST BONUS CASH ⁎
BUILD & PRICE
View all offers